Becoming a YouTuber may sound like a pipe dream, but the good news is that it's still possible to make money on YouTube. The best thing with YouTube is you don't need millions of views to start earning money. And anyone can start posting videos, no matter where you are in the world.
Read this article to find if YouTube is a good business for you and tips on how to get started.
Location: Anywhere ?
Income Potential: Medium/High
Difficulty: Medium/Hard
Here are the highest paid Youtubers:
However, you have to be willing to put in a lot of work to make money on YouTube, and it will probably take you a while. You'll need to pass a minimum amount of views and subscribers to start making money, and it's hard to stand out in such a saturated market – but if you're patient and produce quality content, you could make it work for you.
Side hustles such as YouTubing are most effective when combined. For instance, having a YouTube channel that links to your blog and vice versa is a great way of doubling your potential audience on both platforms.
Is YouTube right for you?
Anyone can start a Youtube channel but does that mean anyone should?
With the sheer size of YouTube anyone can find a topic they're passionate about and be successful with it.
But is YouTube the best platform for you?…
Reasons to do YouTube:
With the size of YouTube you can start a channel on anything you're passionate about and find success.
You don't have to show your face if you don't want to. There's many channel types like lists, animation, documentaries, narrating etc.
It can be lucrative. There are many ways to monetize and you can have success with just thousands of views (examples later).
It builds over time. When done right, your channel will gain momentum over time like a snowball that keeps getting bigger and bigger.
It can be a lot of fun. There's a reason this is such a popular "career" choice or dream for so many. It's rewarding, it's fun, you're your own boss, you can work when you want and so much more.
Reasons not to do YouTube:
As with any business, YouTube is difficult and has its own challenges as well. Check out these Cons and see if they outweigh the Pros mentioned above:
You probably have to work for free in the beginning. It could take a couple years for success or much less depending on how business savvy you are. Regardless, YouTube takes lots of dedication, time and patience and it needs to be treated like a job.
YouTube is very competitive. Will people spend time watching your videos over someone else's? You have to be creative, stick out from the crowd and be able to create good content.
It's hard to create good videos. A good video can take time, planning, or research to complete, usually it will be all three.
You need basic editing and video skills. You can learn as you go but this is required for any channel.
Must be business savvy and willing to learn. You need to learn marketing, SEO, thumbnails, ranking and lots of little things. If this doesn't interest you it might be tough.
How to monetize a Youtube channel
Your channel needs to start getting traffic before you start making money. But once you get traffic there are many ways to monetize and you can, of course, do several or all of these methods. Some channels will be better suited for these strategies than others:
1. Google Adsense
Make money by servings ads throughout your video. All you need for this is Google AdWords account.
2. Affiliate Marketing
Have you noticed how Youtubers always say "click the link in the description below"? The reason behind that is their affiliate marketing program. How does it work? Well, you can sign up for an affiliate program and receive a personalized link from a website you will promote products from. Whenever someone clicks on your link and buy the product the link takes them to, you will receive a certain commission, called affiliate commission.
3. Merchandise/Selling Products
This is one of the more obvious ways of making money through YouTube. You can sell merchandise and clothing with services like Teespring and many more. Or you can create a specific product that your audience would love.
4. Sell Informational Products
If you run a successful channel or know something you believe your viewers would like to know, you can always create a course and sell it. Some genres of YT channels have better opportunities to do this (i.e. cooking, educational channels, DIY), but you can actually sell a course about anything you know.
5. Consulting
If you have certain expertise you can sell services for 1 on 1 consulting. This might be suitable for educational, business or how-to channels. The good thing is, you don't need lots of views to make money, you only need to convince a handful of clients.
6. Sponsorships / Brand Deals
Many brands pay a good amount of money for YouTubers to place their products somewhere in their videos or mention a few good words about it.
One example is tech review channels where YouTubers talk about new products and review them.
You can earn by promoting any product, even by placing a small decoration somewhere in the frame.
7. Donations (i.e Patreon)
Sometimes YouTuber's have their channels completely funded by donations from their fans. Patreon is a service that lets your fans pay a membership for you (example $5/month). You can also give fans incentive to sign up by offering them exclusive videos or benefits.
How to get your account going…
Although this can't be covered in one article here are some steps to get your channel off the ground!
1. Decide the type of account you want to create
– Vlogging, reaction videos, gaming, commentary, there's so many topics to choose from.
– For long term passive income, create evergreen content. This means your videos will be relevant for years to come. For example, "how to start a business" is a topic that will stay relevant and get views 5 years from now.
2. Setup your channel
– Figure out your name, logo, channel art and set up your channel so it's ready to start posting videos. More is less here. Just get it set up and improve upon it later. You need to start posting asap!
You can use Canva to make the graphics or you can always hire someone on Fiverr for $5 to create something.
3. Create a plan
– How will you grow the account? Create necessary social media profiles (Twitter, Instagram, Facebook, only if applicable of course, which usually it is), frequent other channels in your niche to see what they're doing.
– Uploading schedule: How often will you upload?
– Content: How long will your videos be? How long will it take to edit videos? Remember, quality plus consistency is key!
– YouTube rewards good content, the longer the audience watches your video, the better. Remember, create content for viewers, not to just make money.
4. Start Posting
Start making videos and posting!
There's a general rule of thumb, don't give up until you've posted 33 videos. 1
After that, adjust your plan, take a step back and look deep at how things are going.
Pros of YouTube
Huge earning potential
Doesn't require a lot of (or any) investment to start
Videos bring passive income for years after uploading (depending on the channel)
You can make videos about anything and everything out there
There are no qualification requirements
No need for an office or a company
You are your own boss
Cons of YouTube
The market is very competitive
Earnings build up slowly over time
Lots of time up front when starting your channel
Creating engaging videos is difficult
Some channels/genres are harder than others and pay differently
Consistency is key to keep your videos ranking high
Maintaining your videos ranking high is a constant battle
Next steps…
Making a living on YouTube is a dream for millions of people. To reach it you have to be good at your craft and dedicated.
If you want to be successful on YouTube then continuously learn, improve and keep releasing videos.
Heres is more about the industry you want to get into:
Video SEO Statistics
There's no doubt that online video is growing fast. Question is: how do you optimize your videos so they get in front of the right people? And how do you get your videos to rank at the top of the world's 2nd largest search engine (YouTube)? Well, check out these super interesting video SEO stats!
License your content to the media
When a video goes viral, every news outlet wants to get their hands on a copy in order to replay it for their audience. Fortunately, established media companies are well aware that they need to pay for what they use. And voila, you've got yourself another way to make money on YouTube.
As a content creator, licensing your most successful work to the media can be as simple as making sure you're easy to find.
Step 1. Keep your contact details updated on your About page
You never know when lightning will strike. Even if you don't have a business manager, set up a generic email account that you can point to for business inquiries.
Step 2. Sign up to a video rights marketplace
Jukin Media is a great place to start. Even if you don't have a viral video like the Chewbacca mask lady (see below), media outlets often need timely footage to round out their reporting.
For instance, Jukin has an entire catalogue of 'newsworthy' videos that you can contribute to, if you happen to have exclusive footage of a major natural disaster, plane crash, or plague of locusts.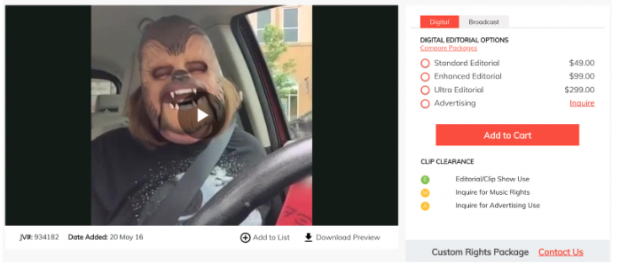 Back to you….
So that's basically all you need to know to get started. You will learn more as you go on the journey. Let me know what i missed out or where you think i got it wrong in the comment section below. If i didn't, drop me a comment anyway. Cheers, Carli Nyam.